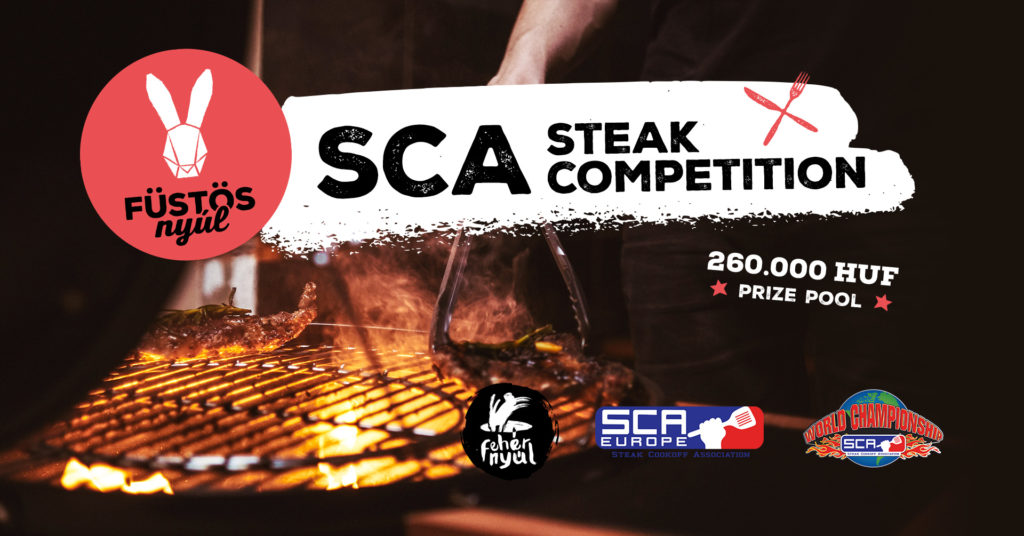 Come and show off your competition steak cooking skills!
Is listening to the sizzling of the steak you just put on the grill your favorite pastime? Are you convinced that you can pull off the perfect doneness? Then this competition is for you.
On the 11th of May, 2019 Fehér Nyúl Brewery (White Rabbit Brewery) and the Fehér Nyúl BBQ Team will host Hungary's first SCA Steak Cookoff Competition as part of the Füstös Nyúl Kupa (Smoky Rabbit Cup)
As part of the Steak Cookoff Association World Championship, you may enter to compete in the ribeye steak category for the prize pool of 260 000 HUF.
Set-up:
You will be allocated a 3m x 3m space to set up your tent and your grilling equipment and will have about two hours to cook two of your best steaks ever: one to turn in for the competition, one for you to enjoy. 🙂
Turn in one steak, whole and uncut, on top of the provided foil disk, no sauce or garnish.
The target doneness is medium, steaks may be cooked on any fire or heat source, and we will provide all the ribeye steaks for the event in order to create a level playing field. No other ribeye steaks are allowed at a team's cook site.
The entries will be judged by SCA Certified Judges on Appearance, Doneness, Taste, Texture and Overall Impression in a double-blind process.
Prizes:
The contestant with the highest scoring entry will win the grand prize of 150 000 Ft (approx. 500€) and will receive a "Golden Ticket" invitation for the SCA World Championship final in the USA.
| | |
| --- | --- |
| Result | Payout |
| First place | 150 000 HUF |
| Second place | 75 000 HUF |
| Third place | 25 000 HUF |
| Fourth place | 10 000 HUF |
SCA Representative Petra Rebenstorf will be on duty to ensure the rules and fairness of the competition.
Date and time:
Saturday, 11th of May, 2019, 09:00 – 16:00
Location:
Kobuci Kert
1033 Budapest, Óbuda, Fő tér 1., Zichy-kastély udvar
Vehicle entry to the cooking site is from Laktanya street.

Entry fee:
36 000 HUF (approx. 115€ / contestant)
Entry deadline: 30th of April, 2019.

Entries to the event are limited, and the organizers reserve the right to refuse any team entry at their discretion.

SCA General Competition Rules
SCA Steak Rules
Register here: