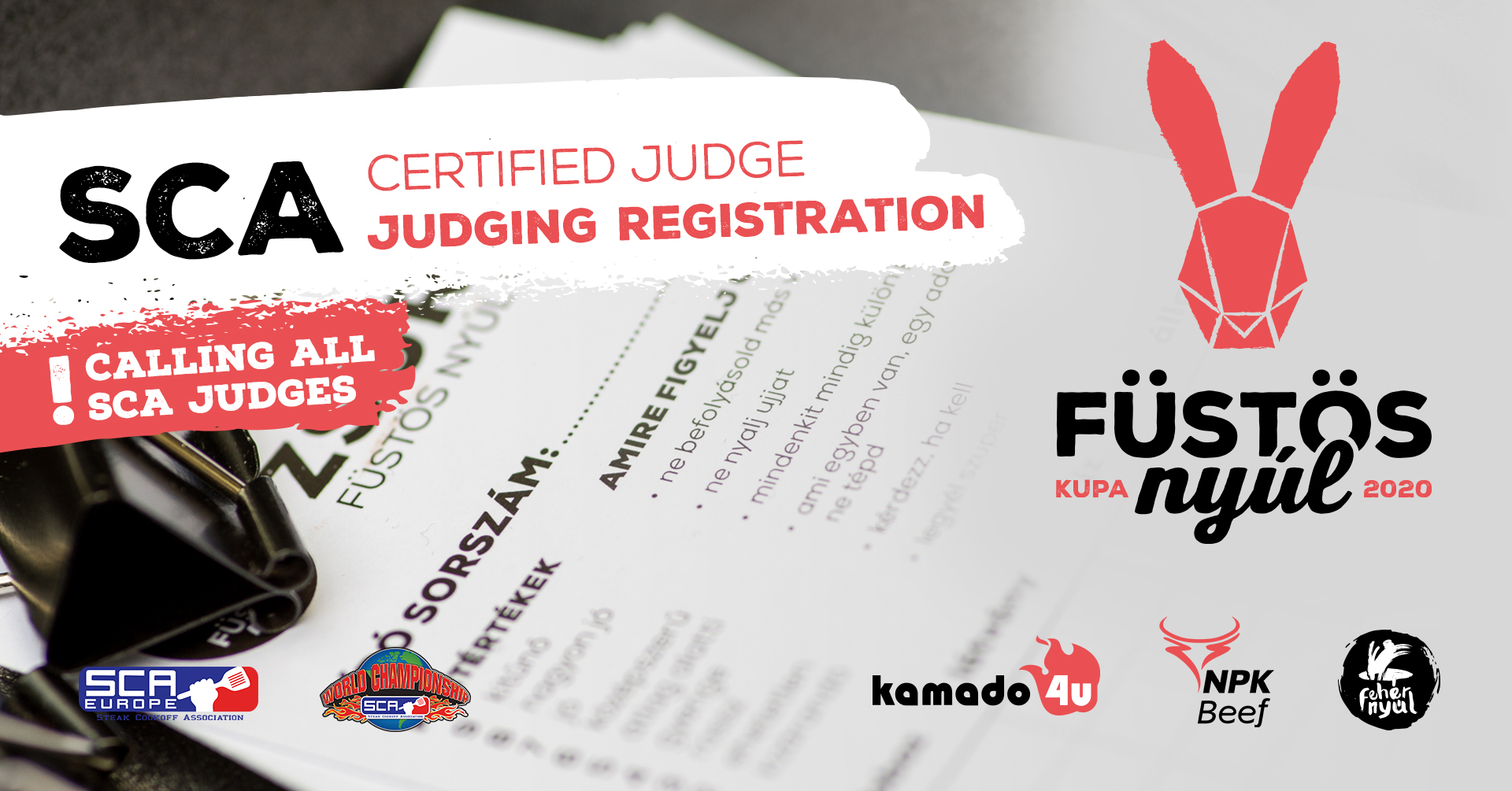 Do you appreciate grilled meats? Just thinking of a well-shaped, pleasantly seasoned, medium-rare steak makes you want to lick the edge of your lip? Would fancy impartially judging steaks prepared by the best amateur and pro chefs?
Judges wanted
Come and register to judge at Hungary's second Steak Cookoff Association certified steak competition at the Füstös Nyúl Kupa 2020 [Smoky Rabbit Cup], presented by Fehér Nyúl Brewery.
For judge registration you need to qualify for the following rules.
Please, read them well.
In case you do not have SCA Certified Judge qualification, the easiest way to acquire the necessary knowledge and judge registration is to participate in our SCA Certified Judge training class on the 24th of September, 2020.
Categories to be judged at the event:
Steak (main category)
Ancillary categories:

Hamburger
Ribs (pork)
Kid's Que (pork steak)
SCA judging rules:
Must be SCA Certified Judge to sign up to judge an event.
Judges memberships must be current to judge any SCA event.
Must be 16 years old to judge and have completed and SCA Certified Judges Class.
All that are signed up and attend the event will serve as either a Tasting Judge, Turn In Captain, or Table Captain.
If a spouse is cooking in an event you may judge only categories that your spouse is not competing in.
Judges may not drink alcohol at the judging table.
The promoter of any SCA sanctioned event has the right to decide whether to allow a Certified Judge to judge at their event.
Final judging seats will be determined at the events by random drawing.
SCA does not guarantee the judges the right to take food after an event.
Supplementary rules of Füstös Nyúl Cup:
By registering, you pledge to do your very best in any Judging role you are selected to participate in.
Please do not register to be a Tasting Judge if you have any food allergies or intolerances. If disclosed at the registration desk, we are still happy to have you as Table Captain or Turn-in Captain.
You are welcome to enjoy a complimentary bottle of Fehér Nyúl craft beer to help you relax after the excitement of judging.
Event location:

Dunaharaszti, Duna riverside
2330 Dunaharaszti, Evezős u. 2.
Hungary

May be reached by car, suburban train (HÉV) H6 from Közvágóhíd (every 30 minutes) or bus 660 / 655 run by VOLÁNBUSZ (check schedule).
The fabulous riverside park where the event is held is a short walk from the station Dunaharaszti külső.
A dedicated parking space will be available near the venue.
Date and time:
Saturday, 26th of September 2020
Judges expected to be available between 10:00-18:00
The number of available judging seats are limited.
Any further questions? Contact us at sca@fustosnyul.hu
Registration: